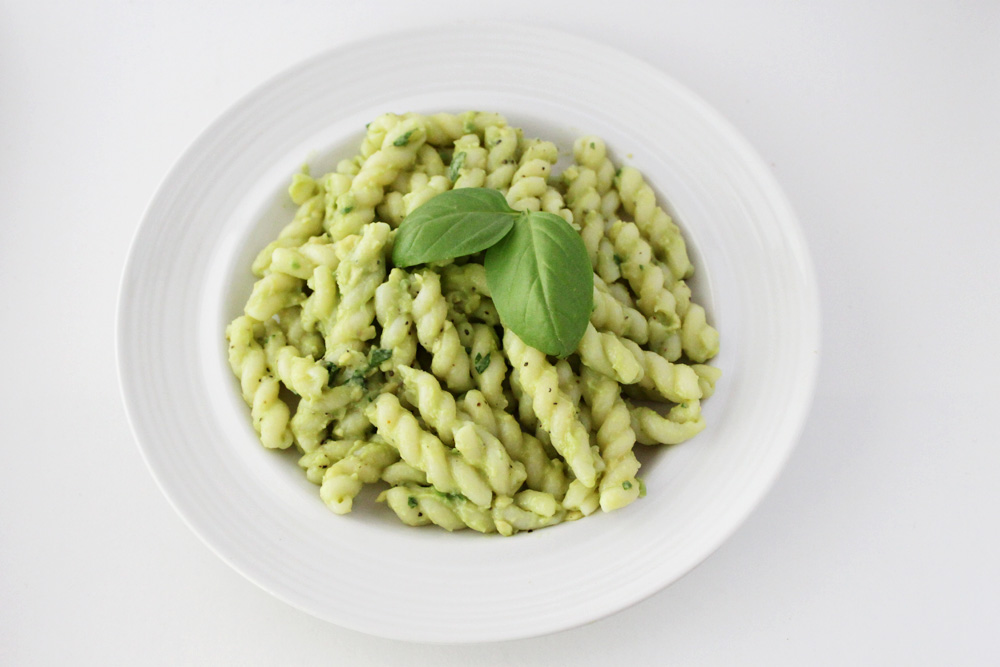 Ingredients:
1/2 ripe avocado. (think creamy consistency)
1/2 lemon (will vary with your personal taste preference)
5 Basil leaves
1/2 tbsp. Garlic Salt
1/2 tbsp. Black Pepper
1/2 tbsp. Olive Oil
2 cups cooked pasta
*You can vary any of these ingredients to suit your own taste.
Directions:
Step 1. Cook your pasta according to the directions on the packet (or al dente), drain, then set aside.
Step 2. Add the avocado, some lemon juice (I only squeezed about half my lemon half), basil, black pepper, and garlic salt to a food processor. Process until everything has reached a creamy consistency.
Step 3. Check the taste of the sauce and adjust it according to your preferences. Once you're satisfied with the sauce, add the sauce in batches to the cooked pasta. Take some time to coat all the pasta well before adding more–you may find you want more or less sauce.
Step 4. That's it! You can eat it hot, or eat it my way which is refrigerated. Seriously, this makes a really tasty cold pasta dish. Also, if you plan on saving the leftovers for a day, use a little more lemon so that the avocado doesn't brown.
cc:
http://www.thesassylife.com/creamy-avocado-pasta/
【関連する記事】